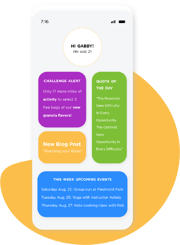 eBook
What is Relational Loyalty?
Your Guide to Relational Loyalty
Loyalty is no longer about cookie-cutter, "Earn & Burn" approach. Today loyalty-leading brands are finding success by creating emotion-based connections to their customers through relevant, 1:1 personalized experiences. Rather than the old points-for-purchase model, we found that modern loyalty programs do better when the focus is on creating value for the customer to build customer-brand relationships -- something we call Relational Loyalty.
Download this guide to discover:
The basics of Relational Loyalty and why it's important to your overall loyalty strategy
The 4 different dimensions that make up Relational Loyalty
How these 4 dimensions are supported by different loyalty platform features